Skip to Content
Building the Best Since 1969
Since 1969, Woodcrest in Waynesboro, PA, has been helping families just like yours forge lasting memories in our quality custom-built homes. Poured concrete foundations, custom-built kitchens and baths by the Shady Grove Planing Mill, "real" hardwood flooring, solid oak staircases, six-inch exterior walls, and your choice of Andersen, Marvin, or Pella windows, just to name a few. We don't believe in standard features. We see every home as an opportunity to give the customer what they want, not what we think they should have. We also every customer with design assistance and financial guidance. Referral customers are a fundamental element in our marketing mix.
The Most Attractive Home Setting
Woodcrest is located in the rolling hills of South Central Pennsylvania, minutes from Maryland and approximately 90 minutes from both Baltimore and Washington D.C. Our properties feature wooded homesites from one-third of an acre to over four acres with breathtaking views of the Cumberland Valley. The spectacular view sweeps down the valley into Maryland and West Virginia from the Tuscarora Mountains to the west. Every home is equipped with public water and sewer, as well as clean, efficient natural gas.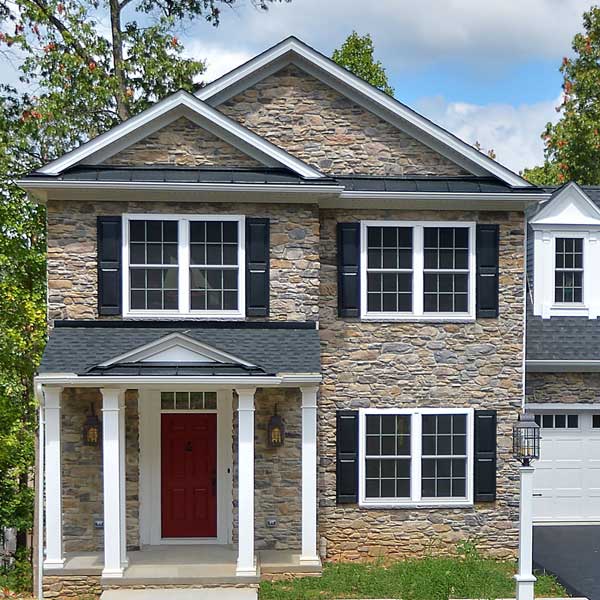 Enjoy All the Amenities of Our Community
Enjoy life in this quiet rural setting surrounded by the Michaux State Forest and less than one-half mile from the Appalachian Trail. Plus, there are many golf courses located within half an hour of Woodcrest: Penn National, Fountainhead Country Club, Carroll Valley, Black Rock, Beaver Creek, Musket Ridge, and Whiskey Creek. The Waynesboro Country Club, a private, full-amenities club, is right across the street. Enjoying an excellent course for the simple pleasures of golf or take on the challenge of a signature course – and you won't need a long drive.
The Benefits of Retiring in Pennsylvania
Don't forget all the incredible tax benefits of living and retiring in Pennsylvania. Most of our taxes are generally lower. Pennsylvania is one of the few states that do not tax your retirement income. That's right! If you live in Pennsylvania, the state does not tax your retirement income. That's a deal you can't get anywhere in most states, including Maryland and Virginia. Thank you for considering Woodcrest to build your new custom home. We know you'll be glad you did.
Your Dream Home Awaits – Contact Us Today