Skip to Content
Land for Sale at Woodcrest
Woodcrest offers land for sale in beautiful developing communities within Waynesboro, PA. We see every home as an opportunity to give the customer what they want, not what we think they should have. All of our homes are custom-designed and stick-built using top-quality materials. We will make sure your home is built with you in mind from the ground up. The most important aspect of your home is dependent on one major decision – the land you choose. We believe in building a home that suits your lifestyle in every aspect, starting with its location. Our land is located in the rolling hills of Pennsylvania, less than an hour from Maryland and approximately 90 minutes from both Baltimore and Washington D.C.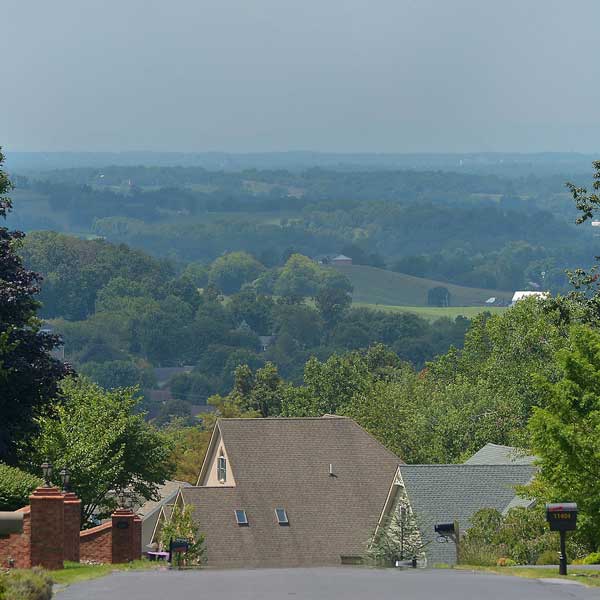 Breathtaking Views of the Pennsylvania Countryside
Enjoy life close to nature in a quiet rural setting surrounded by the Michaux State Forest and the Appalachian Trail. Woodcrest features wooded homesites from one-third of an acre to over four acres with breathtaking views of the Pennsylvania countryside. Every home is equipped with public water and sewer, as well as clean, efficient natural gas. Furthermore, the Waynesboro Country Club, a private, full-amenities club, is conveniently located just across the street, along with an abundance of nearby golf courses such as Penn National, Fountainhead Country Club, Carroll Valley, Black Rock, Beaver Creek, Musket Ridge, and Whiskey Creek.
Luxurious Attention to Detail
Every home is a classic, custom home designed specifically for you, from a full-sized, two- or three-car garage to a spectacular first-floor master suite, our attention to detail and over-the-top customized features are sure to fit your desired lifestyle. Contact us today to learn more about building on a Woodcrest lot or call now to speak to one of our world-class customer service representatives.
WhiteOak
Introducing WhiteOak, the final section of the distinctive Forest Hill.
Available Lots:
Lot 157 – SOLD
Lot 158
Lot 159
Lot 70
Lot 71
Lot 72 – SOLD
Lot 73
Lot 74
Lot 75
Lot 76
Lot 77
Lot 78
Lot 79 – SOLD
Lot 80
Lot 81
Lot 82
Lot 83
Lot 84 – SOLD
Your Dream Home Awaits – Contact Us Today